Is Taylor Swift Too Needy For Snapchat Founder Evan Spiegel?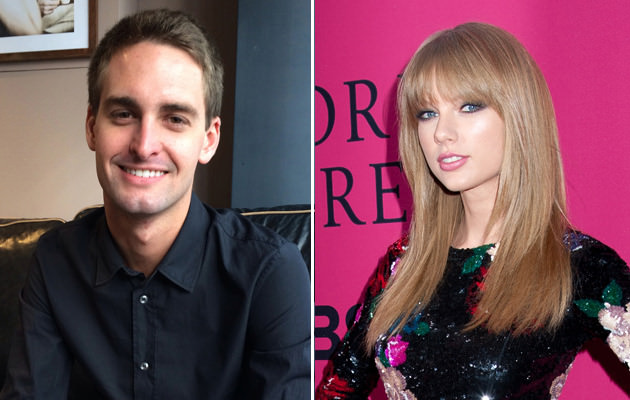 Where's Dr. Drew when Taylor Swift needs him? Now that rumors are flying hot and heavy about Snapchat founder and millionaire-soon-to-be-billionaire Evan Spiegel dumping Swift because of her "neediness", she could probably a professional shoulder to cry on–and a lot of antidepressants.
According to a friend (some friend!) of Taylor's who has had a front-row seat to this affair/fling/relationship, Swift's tendency to consume her boyfriends like the blob in The Blob by demanding their attention 24/7 has sent Spiegel making tracks as fast as his legs can move away from Swift and possibly back to long-time main squeeze Lucinda Aragon.
Other sources close to Taylor claim that she was positive Evan was THE ONE just a day after meeting him. Since there was no way he could be a gigolo/male golddigger (Snapchat is currently worth about $900 million smackers), Taylor could be certain he wasn't schmoozing her for gain and fame. Swift's gal pals also reportedly said that she loved the fact Evan wasn't a celebrity like her previous BFs, who always had the pesky paparazzi constantly nipping at their heels
Alas, Taylor's grand dream of possibly wedded bliss with Stanford University dropout Evan Spiegel wasn't in the cards–again. Is Taylor simply a serial dater who isn't ready to settle down or is she a grasping Greta who wants the affection and attention of one man so badly that she scares every guy off with her mother-smothering ways?
Although we may not have all the syrupy details surrounding this latest dumping incident in Taylor Swift's young life, we just KNOW that she will write a song about it and we'll get to hear them anyway. And maybe Evan will feel defensive enough to "snapchat" his version of their relationship after hearing Taylor's next "how-I-feel-after-being-dumped" song.