Anne Hathaway & Adam Shulman Frolicking On The Beach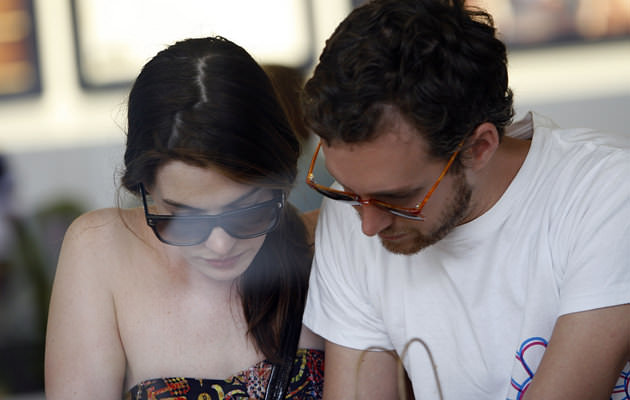 Don't you just wish you could drop everything and go beaching? Apparently so does Anne Hathaway. The only difference is that she can actually do it (and call it "work" to boot!). Hathaway and hubby Adam Shulman were spotted down in Miami over the weekend doing promotional work for her upcoming film "Rio 2". While they were there, they had a chance to kick back and enjoy the Atlantic.
They've been spending a great deal of time in Miami lately; they were also caught smooching on the beach earlier this month when they shot down to attend the 31st annual Miami International Film Festival. During that visit, Hathaway also stopped by the world premiere of Elsa & Fred to support her starring buddy Shirley MacLaine.
We notice that Hathaway has been keeping it modest lately. She wore a maxi dress to the Elsa & Fred premier, and all beach shots of the starlet depict her sporting cover-ups, one-piece bathing suits, and over-shirts (even while splashing around in the water)! This most recent visit to Miami was no exception: Hathaway wore a modest purple one-piece with adorable pink cover-up shorts when she dip her toes, and later her whole self, into the shallow water. Though she bore it all in her cat suit for "The Dark Knight Rises", Hathaway seems to want to keep things more modest in her personal life.
After a quick dip, the pair whiled the afternoon away at their hotel.
For a full fun-in-the-after-sun experience, Shulman took his honey on the town Saturday night. They attended the Deadmau5 rave which took place at the Fountainebleau Miami Beach. The rave featured glow sticks, party favors, and what is assuredly some killer music. Photographs depict Hathaway and Shulman getting silly with each other and having a blast; talk about a great spring break!