Johnny Depp Can't Get Enough Of His Fiancée Amber Heard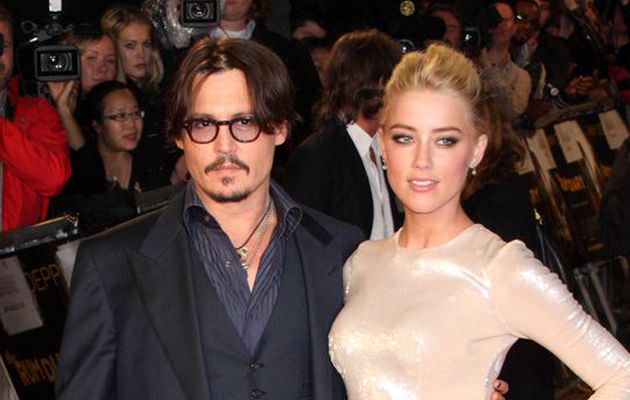 Johnny Depp and Amber Heard seem pretty attached at the hip these days. I mean, we can't blame Heard for wanting her dreamy fiancée nearby at all times (especially given his sordid dating history), but it's hard to find a tabloid without a picture of them getting cozy on the cover. This weekend was no exception.
The two were caught making puppy eyes at each other in Greenwich Village, New York City. While they had to bundle up from the cold and thereby full details on their outfits are difficult to come by, sources have spotted a ring on Depp's left index finger. The ring's significance has yet to be confirmed but rumor has it that it's either a "mangagement" token, or perhaps even the leavings of a secret wedding!
Either would be odd considering Depp's past. A fourteen-year relationship with the French actress Vanessa Paradis yielded two children, but no wedding. Depp famously boasted in 2010 that he saw no need to marry nor have a piece of paper between himself and his lady love since marriage was a personal affair from one heart to another, one soul to the other. Apparently his soul wasn't exactly on target with this one since, after meeting Heard on the set of The Rum Diary in 2011, he broke up with Paradis in June of 2012.
Depp and Heard hosted a star-studded engagement party with over 100 guests at the Carondelet House in downtown Los Angeles earlier this month. For that, the wedding is rumored to be a simple affair (well… as "simple" as you're going to get when you're an A-list celebrity). This summer, the couple plans to say their "I do"s on Depp's private island in the Bahamas, then sail into the sunset together as man and wife. A fairy tale ending for the Pirate King of Hollywood and his blushing bride.