Ireland Baldwin's Lesbian Relationship Is Blowing Up Instagram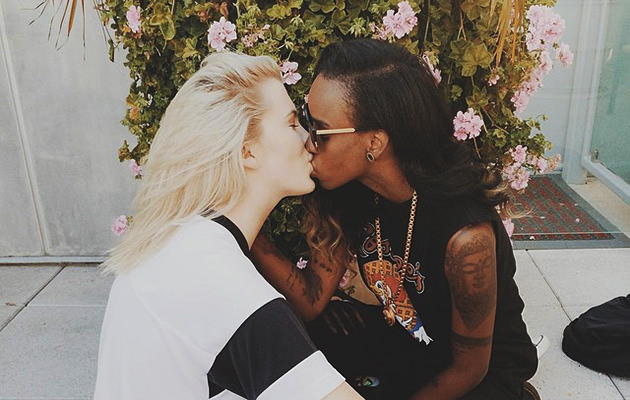 The Baldwin family is back in the news, this time for the romantic exploits of Alec's daughter, Ireland. Ireland, who became a professional model through the L.A. based company IMG back in 2013, has been steaming up Instagram with online hip-hop sensation, Angel Haze.
Fans of Ireland, and her closer-than-friend Angel, have noticed how much time they have been spending together. Their Instagram accounts are filled with photo-shoots and candid photos of, and with, each other. For awhile many viewers speculated as to their true relationship together. They were always rather touchy in their photos, but it wasn't until a shot of the two beautiful women kissing that their romance was confirmed.
On the heels of their kissing Instagram, the social media world blew up. Fans reacted predictably: some with pure joy and others with the type of bigoted discourse we've come to expect from the majority of anonymous internet users. While the Instagram crowd raged on, Angel and Ireland continued to do their thing. After the initial kissing image, which showed the couple on a sidewalk in front of some sort of urban building, a ton of posts showing them in various adorable and intimate positions quickly followed.
Ireland is coming off of a short relationship with former boyfriend Slater Trout. The two broke up in March and it seems that the teenage Baldwin was quick to put the boy behind her. Angel Haze, for her part, has never been coy in her aspiring relationship with the young starlet. A picture showing ample cleavage was tagged toward Ireland and captioned "Your mine, your mine, forget what you've heard." Another shot of the pair, looking longingly into each other's eyes, was tagged "Find what you love and let it consume you."